We have already begun 2015 and if we want to deal successfully with our first Triathlon This year, We should already have a previous work from the three disciplines Fund. Season begins every year in the month of April and extends through mid-October, and although we can begin the most basic methods (Super Sprint: swim 400 m, bike 10 km, 2.5 km. Sprint race: swimming 750 m, cycling 20 km, run 5 km), must not underestimate the complexity of combining all three disciplines. The good news is that Yes we are on time!.
As he is not just finish it, but do so with success and having a good experience, then I give a few Tips for finishing your first Triathlon. Triathlon puts to work different muscle groups that we do not usually use together in a same test. In addition it requires meet and train both the rules and the transitions, not only by one same fate by not to obstruct the participation of other triathletes.
Travel, your first big decision
They say the triathlons are won or lost in the swimming test and is tops in the race. Certainly for a beginner who does not participate in those terms arise, swimming is also decisive. It is where they often happen dropouts or harshest experiences, why but we are good swimmers We have to take this segment with tran. We can deal with it in a Lake, pond or open water. This last option being more complex, is not recommended for our first Triathlon.
For this reason the tour is, without doubt, one of the first decisions that I need to take when it comes to join us. Where will the swimming test take place? and the bike? Is it complex? Do I need neoprene? Once we have clear the date and place, begins our countdown.
In triatlon.org you can find the calendar of tests in Spain. To start the circuit SkodaTriathlon Series is highly recommended with tests in Madrid, Castellon, Barcelona, Andorra, Tarragona, A Coruña, Mallorca, Seville, Getxo, Gava and Malaga. Also interesting is the Garmin Barcelona Triathlon with the largest number of participants in Spain. All of them offer you the Sprint mode, which is ideal for testing.
Swimming in triathlon tips
From this moment we face each months to prepare. All have rode a bike ever, have run or made some laps in the pool. But not talking about the same thing, you don't know how your body will react to the sum of the three sports. It is also important to the stress control, mainly in water, so it You should not choose a very crowded Triathlon. If you're a woman you can go in the female group which is not normally so abundant and always has a time frame between male groups.
Nothing quiet water, It controls breathing and not let yourself be carried away by the nerves. Avoid shock pulling you a little later to go behind the group or looking for the less crowded side. It is easy to lose orientation both in open water as in a lake by the poor visibility, therefore you must find points of reference, swim with the head out or follow just the wake of the group. Although there are always some clueless that can make you lose the right direction. Wear glasses and then the hat, and previously tried to jump into the water with all set to learn how not to lose it.
If the triathlon takes place on a lake or pond with turbid water, you can try to give you cream with total protection (then you will serve for the bike), thus avoiding possible allergies. Don't get nervous / if you hit a SIP of the water, tends to be more clean than it seems.
According to the dates and the temperature of the water the day of Triathlon, you will have to watch to see if it is necessary the neoprene or not. In the event that you had to use it, you should have tried to swim with him previously. Use carries greater difficulty of movements but as advantage gives a greater buoyancy.
Plan your workouts for the next months
If you already have the ideal base is that you start a program of training of 2-4 months prior to the test. Although it is not necessary to bend every day, if you have to prove every week to train two disciplines: bike and run, swim, and run. An hour and a half a day for 4 or 5 days a week will suffice.
Surely you ask yourself how long can take you your first Sprint Triathlon, with a little work you can finish it perfectly between 1 hour and a half or two hours (15-20 min swim, 40-50 min bike, running 25-30). Remember those times you have to add the transitions that will surely lose more minutes of the desired to be the first.
The speed with which most experienced triathletes performed it will surprise you. It is really a true spectacle to see them participate. Rehearse the transition from water to bike and the bike to run. When you're not used you can go wrong at these two times. Legs are we can bind bike to run, so you should use comfortable development When you approach the box so that you do not upload them much.
In time will also influence the type of bike that you use and the difficulty of the circuit. Obviously it is not the same a road with a mtb bike-racing. Also decides if it will do everything with the slippers run or you can use automatic pedals and bike shoes. You must train all.
He knows the rules of Triathlon
The Triathlon has its rules and it is much stricter than the popular athletics, for example. Find out what you can and what not. To give you an idea you can not make the transition from bike to run without wearing the helmet, they could disqualify you. Also you can listen to music during the race because you can suppose a sanction. All material must be within your drawer and the bike placed in hollow enabled for your back and looking in the right direction.
Anyway, in all triathlons are made technical meetings where we explain the circuit, how to do transitions, where and how willing the refreshments. In addition, we cleared up doubts and even give tips how to deal with all the sectors of the triathlon, where regular and where to press. If it is your first Triathlon it is convenient to attend.
The dorsal It should be placed in the right direction in each of the tests: in the water you will be identified by a number in the skin or the CAP; During bike it is convenient that you can see in the back and the race ahead. To facilitate these positions, there are a few rubber (belt) that allow you to change position easily. The chip is located in the ankle with a brace of neoprene, which should not be too tight nor too loose so that it doesn't bother us or make us chafing.
Choose in advance the material you are going to use
For your first Triathlon It is not necessary that you spend much money, that in itself is a very good sport. The basic thing you should take is to:
A Mono Triathlon (find it by 50-75€, not does need to be of the latest models). Swimming test can be done in a swimsuit, but to make the transition we get a t-shirt for the bike and the race walk. Is sanctioned to go bare-chested or with monkey zipper down all.
Some good running shoes
A few goggles for swimming
Gallery
Roasted Brussels Sprouts and Squash with Dried Cranberries …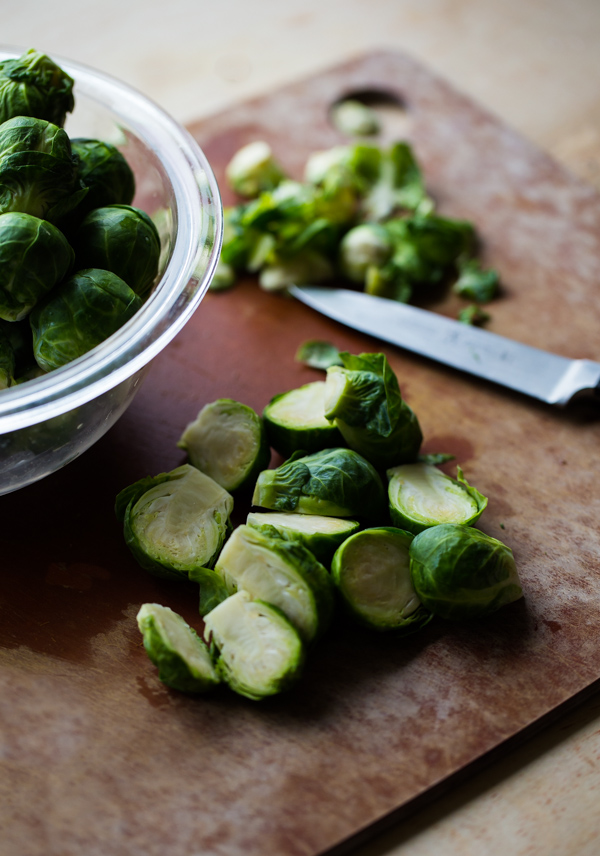 Source: bloggingoverthyme.com